January 17th, 2007
The Digital Learning site from the MacArthur foundation was launched in 2006. Parts of the site are still under development. … Definitely worth watching…
November 16th, 2006
As I mentioned previously, I am currently helping to build a set of online courses. Our design team is constantly struggling with different ways to represent content (for a particular goal or objective–e.g. model for students how to integrate a internet-based lesson plan). Anyway, I wanted to add a link to a Posting from Creating Passionate Users because it has some great ideas/ information related to using graphics.
Check it out: http://headrush.typepad.com/creating_passionate_users/2006/11/add_graphics_to.html
November 3rd, 2006
On April 20th of this year our governor signed into effect a law that revised Michigan's high school graduation requirements. The state has more recently published a set of guidelines for the Online Learning requirement. (Thanks to my colleague Carrie for sending this along

). This document provides clarification on what the state means by "online learning experience".
Also, you might want to check out the "Michigan Merit Curriculum Course/Credit Content Expectation and Guideline Completion Schedule".
November 2nd, 2006
Recently I spoke with students at CMU on how to create a podcast using ODEO studio. I have also created a short flash video on how to create a podcast. To view the video click here.
October 22nd, 2006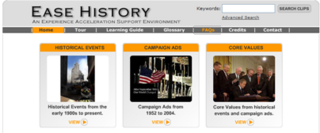 EASE
History is a web-based application that supports the social studies curriculum. The site is filled with videos and photographs from campaign ads. Users of the
EASE
interface can compare and contrast videos with their unique flash based interface.
Recently, I interviewed Brian Collins the lead developer of the site.
August 26th, 2006
In my quest for finding open source digital library software, I came across Dspace.org. Dspace was developed by MIT and Hewlett-Packard. Institutions are using it to store, organize, classify, and make accessible to others all different types of digital objects. Important metadata is associated with each digital object. (Once again the power of metadata strikes again.) Uses of dspace range from making available research, student theses, and learning objects. I think that there are also applications for the K-12 arena. Why? Well, we know that increasingly students are becoming creators of their own digital content. Once we as educators can think about how we can capitalize on these new outlets (while also addressing the related ethical issues) for creativity (some teachers are already doing this) digital libraries may be import ways of sharing student work.
August 15th, 2006
Currently I am in the process of designing some online courses. Today I was thinking about not just how and why a specific media should be selected but also … when. While the courses focus on teaching skills (in a meaningful context and related to practice) they are still well … teaching skills. When teaching technology skills it is important to teach the "big ideas" that are not specific to one company's application but to types of applications or technology in general. Besides creating more fluid and flexible understandings it is just downright practical. (example–Adobe buys Macromedia– prices skyrocket). So when teaching these skills we want to present the big ideas, give step-by-step instructions (build foundational knowledge), encourage exploration and self-guided learning (don't make them dependent on your modules– they should be able to utilize forums, the help menu

etc. )
Okay, okay– so you are probably saying how does this relate to ebb and flow– I think we should consider the ebb and flow of information and activities that are specific to the type of content we are teaching. Think of it as writing a piece of music. Education should not just draw on experience … it should be an experience.
August 10th, 2006
I just came across this site that has an application which gives visitors to your blog the opportunity to leave audio comments. It is $45 dollars a year and has a 2 min limit on messages. I haven't looked into this any further but it has interesting possibilities for K-12. A couple of teachers I was working with this year were struggling with how they can help students who have difficulty typing (sometimes they are too young, the blog is not in their native language, or they have special needs)… this tool may be a way for those students to also participate in the blog. Site:Â  MyChingo
The site that led me to MyChingo was GenTech 
August 9th, 2006
All I can say is that I don't think we have heard the last of this. I have seen some other postings from people who feel that the patent was too broad and that it will have to be worked out in litigation. See an article last month in The Chronicle
August 9th, 2006
The next series of posts have all been copied from a blog I was using as part of a course I was teaching in Spring 06.
Next Page »